A personal journey with Dementia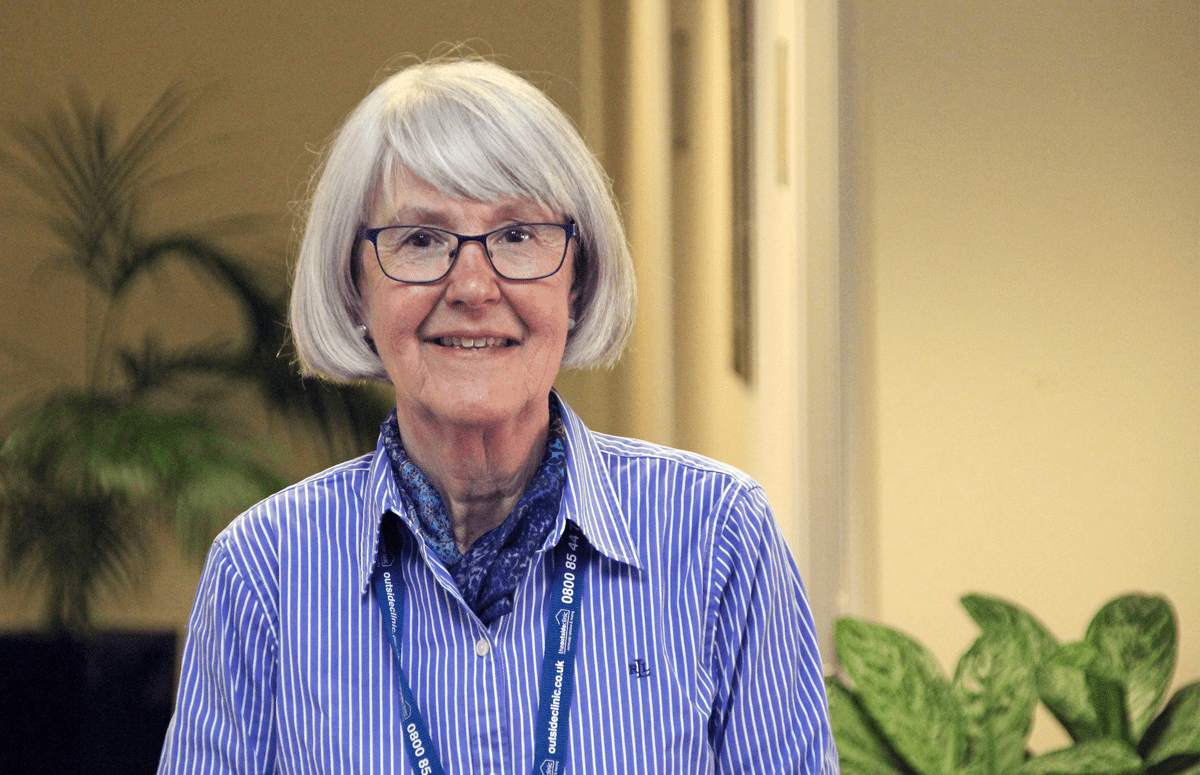 IQIP's Lead and Dementia Champion, Philippa Harwood-Little
As part of our Dementia Friends Charity Week, we talk to our IQIP's Lead and Dementia Champion, Philippa Harwood-Little, about her journey with her mother, who was diagnosed with dementia and sadly passed away in 2018.
Philippa is an extraordinary lady who has worked for OutsideClinic for 12 years in various roles. As a qualified Dispensing Optician, she started as National Delivery Team Manager, growing the delivery team and developing a very high-quality delivery service.
When Philippa realised, she would need to focus more on her mother's needs, she was supported by OutsideClinic Management and changed her role to a more supportive part of the team to focus on her mother's needs. Now, she is our IQIPS (Improving Quality in Physiological diagnostic Services) lead. She has helped us become the UK's leading provider of dual sensory services and the only IQIPS accredited provider for national domiciliary audiology care.
As well as her IQIPS role, she helps to create and implement many different training sessions for our staff, one of which aims to help them communicate more effectively with customers who have dementia. As a company that cares greatly about our customers, we want to ensure that everyone has access to a high-quality service.
The SPECAL method
Philippa is beginning to train all our staff on a unique, practical and effective method of communication called SPECAL, which she used with her mother. This method is based on an innovative way of understanding dementia from the person's point of view with the condition and has recently been evaluated by King's College London as a very positive form of communication.
"Knowing how to use the SPECAL method helps you understand what it feels like to have dementia, and once you can understand that, you realise that a common-sense approach to managing the condition is not useful at all. Once you have absorbed the general principles of SPECAL method, you can then alter your behaviour and communication so that harmony comes into the home," said Philippa.
"As I got better at using the SPECAL method with my mum, and it became more and more of a joy to look after her. It was an absolute joy at the end to look after somebody who was so much fun even though she had advanced dementia.
Phillipa (right) and her mother Jo.
"She could be challenging at times, although she never hit out or showed any dramatic behaviour, but I believe she could have done, especially when she was frustrated, if her care team and I hadn't been using the SPECAL method. It was pure luck for me that I found SPECAL. There are other methods out there, but I know this works, and it saved my sanity, too, at the time. I want everyone to know about it - not just our professionals visiting people with dementia but families and carers too," said Philippa. 
Highly trained staff
Our staff are highly skilled, from our call centre staff to our opticians and audiologists. While we tend to see a wide range of people, some with no cognitive impairment, others with more complex needs, this extra training prepares us and helps us tailor each visit to each individual - making a difference in their lives.
"As well as the standard training package that we provide for our new members of staff, we also offer additional training at our conferences so that everyone has a more thorough understanding of what it feels like to have dementia. Our last conference was just before the pandemic when I gave a presentation to our aftercare team about communicating well with people who have dementia. This included some top tips such as the importance of listening to the person carefully and avoiding asking too many questions," said Philippa.
Personal experience
Philippa has such a passion for teaching people and helping people understand how to communicate with people living with dementia.
"I knew I had empathy for older people and people with dementia. I've been in optics for so long that I have met all sorts of customers, but when you see it in your own family, you do gain empathy, and you have to accept that there are some aspects of dementia that are going to be difficult to manage. I probably wouldn't have got into the 'dementia world' so strongly if I hadn't had the personal experience," said Philippa.
"When mum was diagnosed in 2013, I read everything I could which was most depressing, so I went on the internet to find something more positive, and I struggled. I found lots of practical advice but nothing about how to communicate. I eventually found Penny Garner, who is the Clinical Director and founder of The Contented Dementia Trust and has been responsible for developing and refining the SPECAL method. I am so grateful to OutsideClinic for supporting me so that I could attend the Contended Dementia Trust's Coach course where I became a coach with Penny, which is how I can now introduce the SPECAL process to OutsideClinic.
"It's all about promoting wellbeing for someone with dementia 24 hours a day, every day for life, which is a massive goal. My mum did go to a care home for the last few months of her life because she needed two people to care for her, but it was a care home that understood the importance of listening to and learning from the expert, the person with dementia, which is one of the general principles of SPECAL. My mother felt the home was just a place of transition until we could look after her again, and she loved it because she saw it was a place for meeting people, and she did an excellent job of that. She lived up to the end of her life with joy and contentment. I was so lucky, and that was an expression that she would often use - 'we are so lucky to have each other' planting a whopping big kiss on my cheek, which was a surprise because she had never been that sort of person!
"I want to reassure people that it doesn't have to be as bad as you might imagine. If you are committed to caring for someone with dementia, it can be very rewarding. We had a challenging relationship for years, but things changed because we became equal in this journey. And it wasn't all due to me; it was a lot of her determination, strength and character that kept us both going."
Philippa's mum, Jo.